Logitech K400 Plus Wireless Touch Keyboard
₨ 6,695
Connection Type: Logitech Unifying protocol (2.4GHz)
Special Keys: Mute, Volume Down, Volume Up
Connect / Power: On/Off Switch
Battery Details: 2 x AA
Battery Life (not rechargeable): Up to 18 months
Key life: Up to 5 million keystrokes
Typing noise: Within 55 dBA for all keys
Wireless range: 33 ft (10 m)
Logitech K400 Plus Wireless Touch Keyboard
Logitech k400 pls touch keypad keyboard wireless plug-and-play keyboard with integrated touchpad for total control of your TV-connected PC from your couch. K400 is a quiet, easy-to-use keyboard with a built-in touchpad, plus all the hotkeys Windows® and Android™ users know and love. Complete with media controls that make navigating your PC-controlled TV a breeze. Gadgets club offers the best price in Pakistan for a Logitech k400 plus keyboard.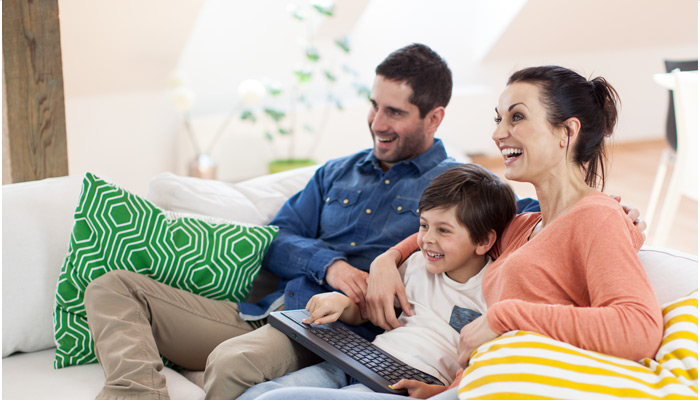 DESIGNED FOR LAID-BACK CONTROL
PC-to-TV entertainment shouldn't be hard work. Kick back and navigate your TV-connected computer from the comfort of your couch!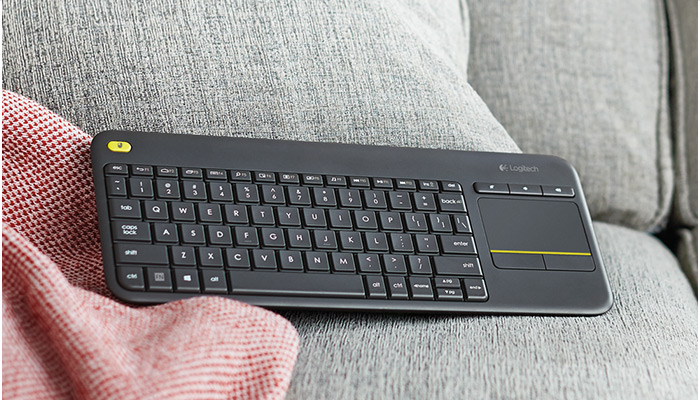 INTEGRATED WIRELESS KEYBOARD WITH TOUCHPAD
Enjoy seamless control of your PC-to-TV entertainment, without the hassle and clutter of a separate keyboard and mouse. Comfortable, quiet keys and a large (3.5-inch) touchpad make navigation effortless.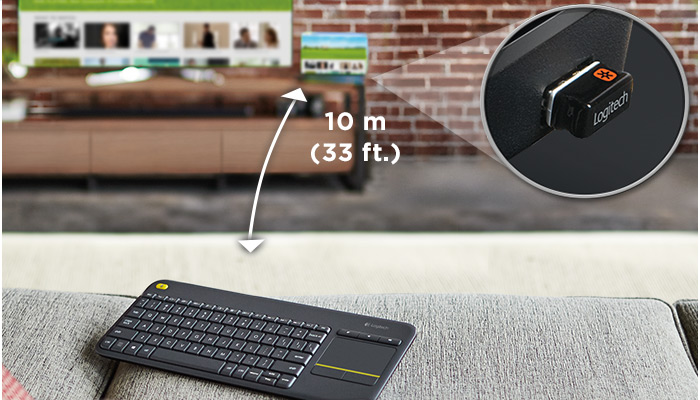 10-METER (33-FOOT) WIRELESS RANGE
Watch the video, browse the web, chat with friends, and more, without annoying delays or dropouts.
The responsive, trouble-free connection even in large spaces.
Wireless range may vary depending on the operating environment and computer setup.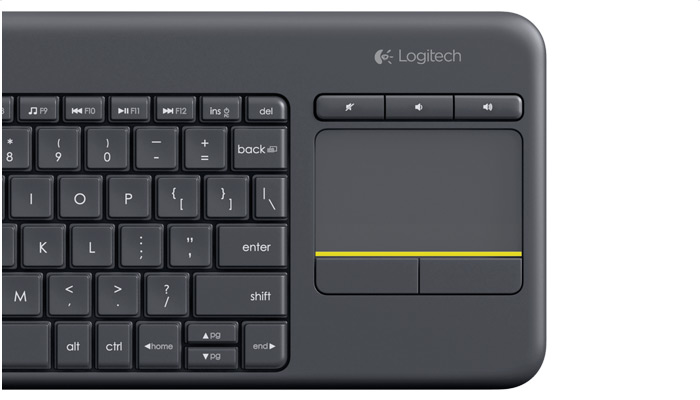 MEDIA-FRIENDLY TV KEYBOARD
You are instantly comfortable using the K400 Plus. The layout is designed for relaxed media interaction.
Easy-access volume controls and arrow keys.
Second, left-click button lets you navigate and make selections with two hands.
Shortcuts for Windows® and Android™ users.
Hotkeys work right from the box; no configuration is required.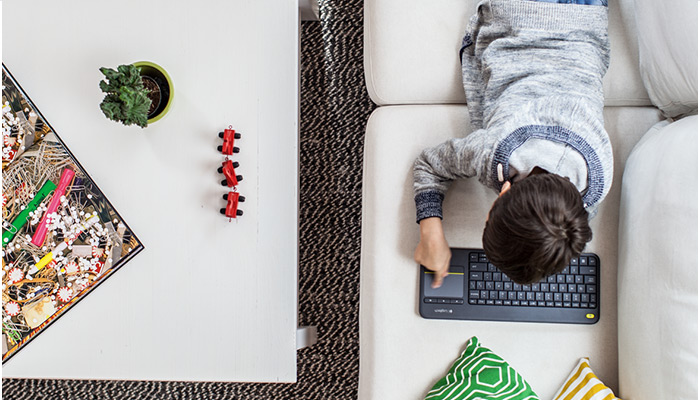 PLUG-AND-PLAY SETUP
Setting up K400 Plus is a snap. Plug the tiny Unifying receiver into a USB port and start the fun. Use the keyboard receiver to connect up to six Unifying devices to your computer. Visit the Official international Logitech brand store for more detail.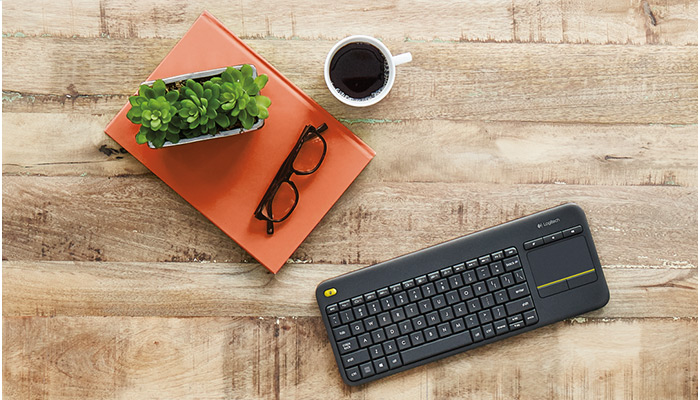 18-MONTH BATTERY LIFE
You might forget this keyboard needs batteries.
Virtually eliminates the hassle of replacing batteries.
Use the on/off switch to extend battery life even further.
Battery life was independently tested for two-hour use per day. Actual battery life will vary with use, settings, and environmental conditions.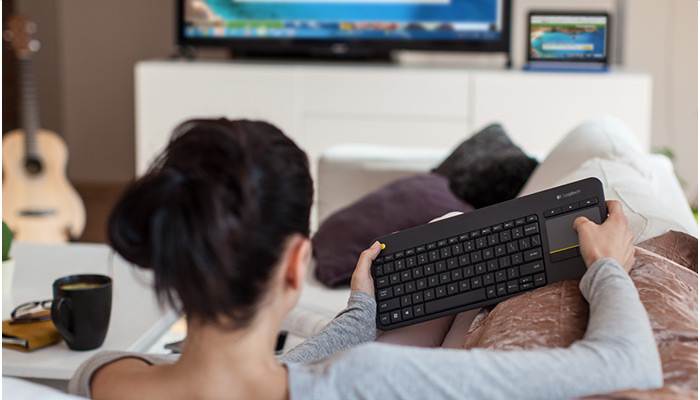 WORKS WITH MULTIPLE OPERATING SYSTEMS
Designed for use with Windows®7, Windows 8, Windows 10 and later, Android™ 5.0 or later, and Chrome OS™.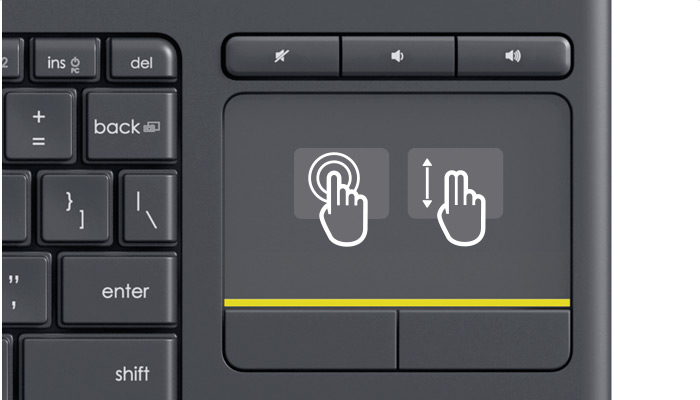 CUSTOMIZABLE CONTROL
Use K400 Plus right from the box, or personalize key and touchpad settings with Logitech Options™ software.
DIMENSIONS
Overall
Height: 139.9 mm (5.5 in)
Width: 354.3 mm (14.0 in)
Depth: 23.5 mm (1.0 in)
Weight: 390g (with batteries)
Touchpad
Height: 76 mm (3.0 in )
Width: 47 mm (2.0 in)
SYSTEM REQUIREMENTS
OS/Platform Support
Windows® 7, Windows 8, Windows 10 or later
Android™ 5.0 or later
Chrome OS™
USB port
TECHNICAL SPECIFICATIONS
Connection Type: Logitech Unifying protocol (2.4GHz)
Special Keys: Mute, Volume Down, Volume Up
Connect / Power: On/Off Switch
Battery Details: 2 x AA
Battery Life (not rechargeable): Up to 18 months
Key life: Up to 5 million keystrokes
Typing noise: Within 55 dBA for all keys
Wireless range: 33 ft (10 m)
PACKAGE CONTENTS
Wireless Touch Keyboard
Unifying receiver
2 AA batteries (pre-installed)
User documentation
Gadgets club offers the best prices for Office Wireless Bluetooth multi-device keyboards. Visit the product page for more keyboards
Additional information
| | |
| --- | --- |
| Select Warranty | 7 Days Replacement |